The most reliable podiatry tools on the market.
Proven products. Proven results. Guaranteed.
We strive to be the one-stop-shop for your professional podiatry supply needs. From podiatry drills, to burs to nippers – we provide a wide variety of professional podiatry tools that will make your workday more smooth and efficient.
Our signature podiatry tools are the Orthofex drills – the most reliable and powerful podiatry drills sold in North America. Unlike many other drills on the market, our podiatry drills are a safe investment that's expected to steadily serve you over 10 years. If for any reason you experience a problem, we will always provide you with replacement parts and offer quick repairs to minimize your downtime to a minimum.
The Orthofex podiatry drills are manufactured in Europe, and are then re-assembled, tested, and certified in North America to ensure adherence to all safety and electrical regulations. Our team is based in North America and is ready to service your drills, provide quick shipping and dependable support year-round.
If you have already purchased one of our drills and need support, please contact us or see the guides available under the Support tab.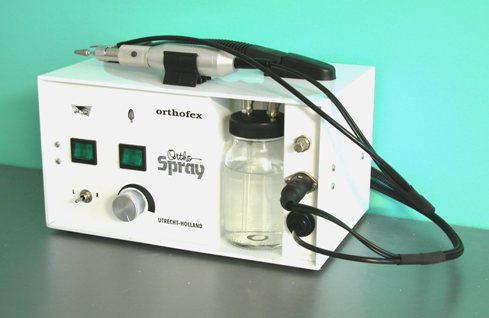 VACUUM DRILLS
Micro Air Basic & Micro Air Elite – These professional podiatry drills have a built-in vacuum motor that evacuates dust, reducing airborne contaminants and limiting health hazards. They are durable and effective, and can be used in conjunction with any standard podiatry bur. The Micro Air Elite includes a footswitch and a 3 year warranty on all parts and labour. The Micro Air Basic drill does not include the footswitch and comes with a 1 year warranty on all parts and labour.
SPRAY DRILLS
Ortho Spray – This powerful podiatry drill debrides nail while cooling the treatment are with a mist, and keeping dust down by binding it into a paste. Like the Micro Air drill, the Ortho Spray can be used with any standard podiatry bur.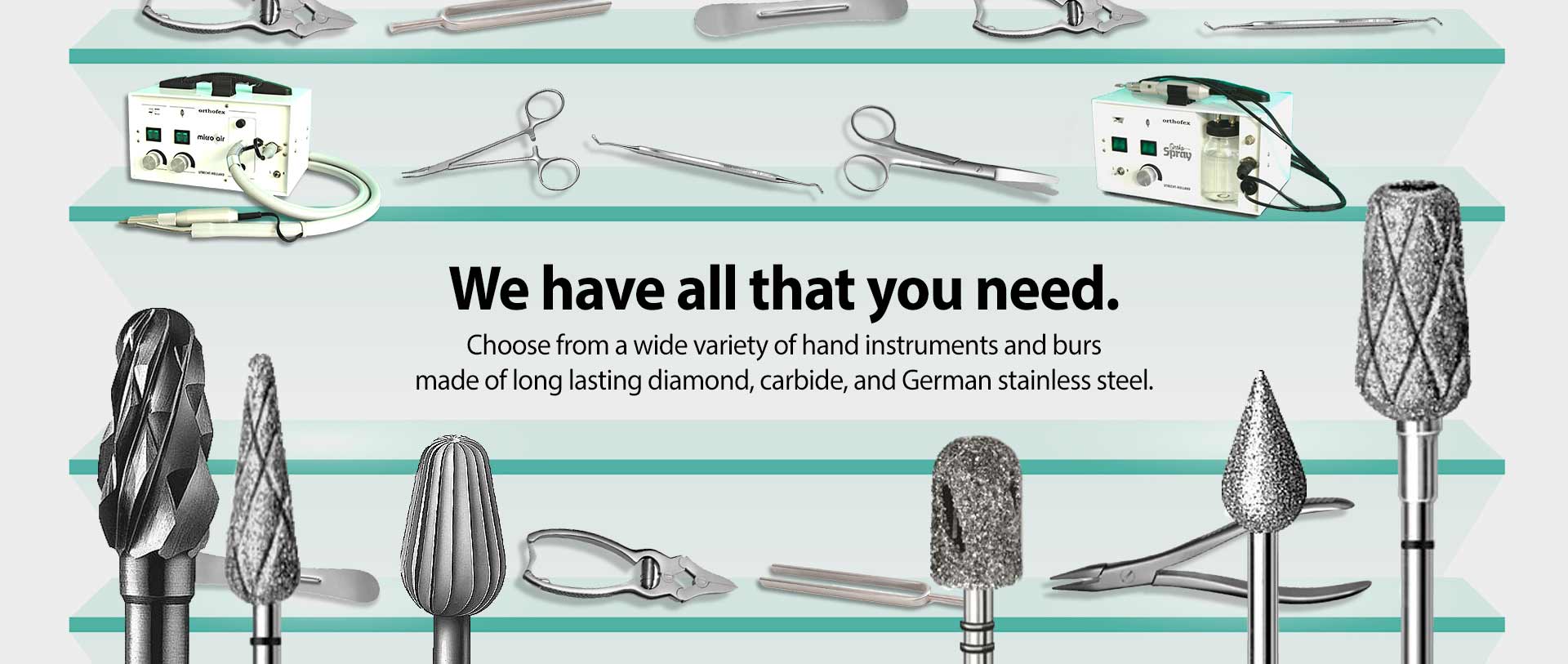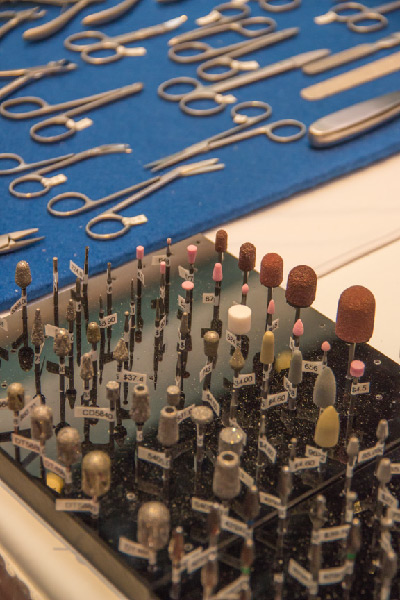 We offer a wide selection of burs, made of:
Stainless Steel – Our stainless steel burs are manufactured with a higher grade steel and a higher chromium content for better hardness of the steel, and resistance to rusting.
Diamond – Our diamond burs are made of the finest materials under strict quality control and allow you to drill and thin nails more precisely than ever. Our CD diamond burs have grooves along the head of the bur, making them even more aggressive and allowing them to better cool off. The Dia Twister burs are mostly larger in diameter and have deep slits in them, making them suitable for the most aggressive debridement of callus.     
Carbide – Our long lasting carbide burs are tough and durable, allowing you to debride with confidence. Carbide can also be easily cleaned and sterilized after every treatment, thus minimizing prep time between patients.
Carbide, coated with TiN (Titanium Nitride) – These special burs have a revolutionary cut and safe-end working part for speed and safe treatment results.
Rubber, with sanding caps – Our rubber burs can be autoclaved and are good for 1-2 years. The sanding caps are disposable for one time use – perfect for busy clinics with high patient turnover.
We also provide bur containers of various shapes and sizes to help you keep your tools well-organized and easily accessible.
Please see the carrier bur reprocessing information (for rubber burs used with sanding caps) and our recommended sterilization procedures (for all other burs).
PODIATRY HAND INSTRUMENTS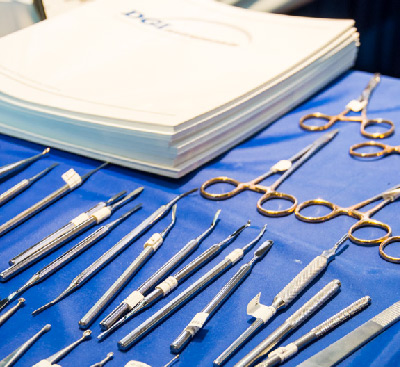 Our hand instruments help you perform your work easily even if your hands are weaker or feel strained after multiple patient treatments.
We carry a long list of specialized instruments used in distinct podiatry procedures:  
Callous & nail files, excavators, forceps, gouges, chisels, planers, lifter & spatulas, nippers, pocket cases, scalpel handles, scissors, tweezers, hemostats and needleholders.  
These podiatry tools are made of the best materials, making them lighter, sharper and stronger than most alternatives. They also feature unique builds (concave, pointed, double action, and more) so you can be prepared for any type of operation with the most effective tool.
Most importantly, we stand behind our products and provide free lifetime sharpening on all instruments to ensure their continued superior performance.